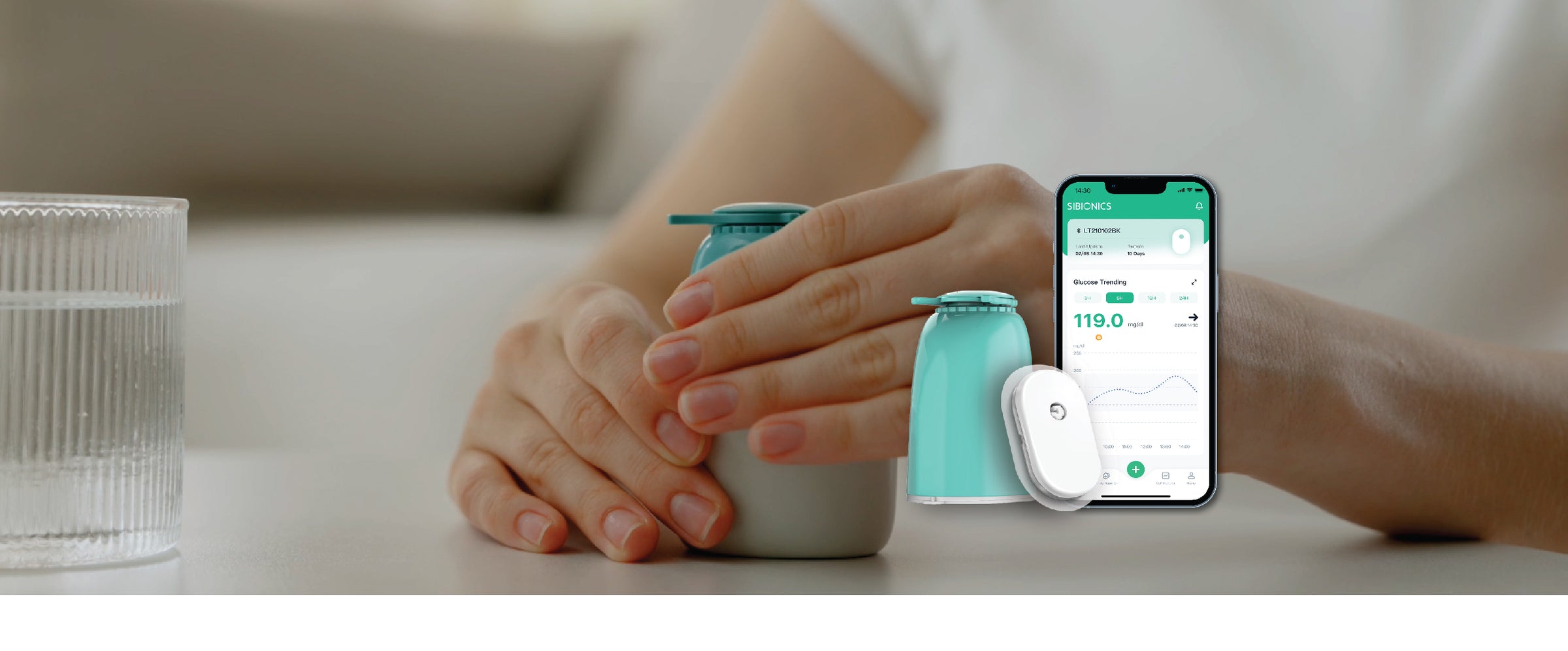 Hello!
We are here to assist you!
As the activity pathway of blood glucose has its own particularity, what is monitored by a CGM system is IFG(intertissue fluid glucose), which has a time difference from CBG (Glucose capillaries)monitored by a fingertip glucose meter. This difference may not be significant when blood glucose is stable but will be obvious when blood glucose elevates or goes down. Therefore, please do not compare the two values when there is significant blood glucose fluctuation.
You can send a screenshot of your daily blood glucose data to our after-sales support email: support@sibiocins.com. Our professional customer service consultant will help you assess it and provide you with a scientific monitoring scheme.
If you have a medical appointment that includes using strong magnetic or electromagnetic radiation, such as an X-ray, MRI (Magnetic Resonance Imaging), or CT (Computed Tomography) scan, we recommend you remove the CGM sensor that you are wearing before the scan, and apply a new SBIONICS sensor after the scan.
This product is used for continuous or periodic monitoring of intertissue fluid glucose levels in adult patients with diabetes (≥18 years).
Continuous glucose values can be provided and stored for the user to track trends in glucose concentration changes.
The glucose sensor is for single user use only, does not require calibration by the user, and can be used for up to 14 days.
The product measurements are not intended to be used as a basis for deciding and adjusting treatment regimens for diabetic patients. The product should not be integrated with insulin pump systems or used in conjunction with software to guide insulin intake dosing. For details of contraindications or precautions, please refer to the instruction manual. Please read the product instructions carefully or purchase and use under the guidance of medical personnel.
Due to individual differences, fingertip blood verification is still required when glucose levels change rapidly and intertissue fluid glucose does not accurately reflect blood glucose levels; or when the system indicates hypoglycemia or impending hypoglycemia, or when the user's symptoms do not match the system readings.
This product must be removed prior to performing magnetic resonance imaging (MRI).
Unfortunately, the GS1 CGM isn't available in the US at the moment. The SIBIONICS team will strive to bring its ground-breaking CGM technology to more countries in the future.
Unfortunately, the GS1 CGM isn't available in South Africa at the moment. The SIBIONICS team will strive to bring its ground-breaking CGM technology to more countries in the future.
The SIBIONICS GS1 CGM is only available and ships to the European countries at the moment. As for the SIBIONICS products bought through third-party shopping apps, we do not assume any liabilities for the damage caused by the use of these products.
The English app is already available to European residents. Thank you for your continued support and trust in the SIBIONICS products and services.
Given that the product belongs to a medical device, no return or exchange is available if it is not due to quality problem. Your kindly understanding will be appreciated. Before unpackaging, please check whether the product's outer packaging box is intact. In case of any damage, please contact logistics personnel in time. Thank you for your cooperation.
14 days, the expiration date caused by personal failure to use in a timely manner will be borne by the individual, details of the expiration date can be consulted with customer service.
Usually, the sensor can be worn for a maximum of 14 day, but does not exclude the loosening caused by a very small number of cases, it is recommended that the reinforcement in scenarios such as strenuous exercise, bath, shower and other scenarios that may lead to loosening or even fall off.
Yes. The SIBIONICS GS1 CGM has received CE certification.
The GS1 sensor has a service life of 14 days. It will stop working and needs to be replaced after 14 days. Due to the nature of biosensor, it cannot be recharged or reused. The sensor's life expectancy is 14 days. The additional 10x sensor patches are not required but recommended, as the sensor patch may help in keeping your sensor adhesive secure and clean.
You do not need to scan the CGM with your phone, as the GS1 device transmits data via Bluetooth continuously—every 5 minutes—to your phone. To make sure the app is uploading new readings, you just need to keep you phone's Bluetooth on, and make sure your phone is within 20 feet of you.
Each GS1 sensor is designed to last for 14 days. After 14 days of use, you'll be prompted by the SIBIONICS app to replace the sensor with a new one.
Yes. You can take showers, swim,and bath with your sensor. The GS1 sensor has an IPX8 waterproof rating, and can withstand being submerged in 3.3 feet deep water for up to 1 hour. When wearing the GS1 sensor while bathing, please make sure that your bath temperature does not exceed 104°F and the relative humidity stays below 90% humidity.
The official SIBIONICS app is currently available in EU countries and the UK. If you're a resident living in EU countries or the UK, please download the SIBIONICS app to your smartphone from Apple App Store or Google Play Store. For users in other countries and regions, please scan the QR code on the quick start guide to download the SIBIONICS app.
Please refer to SIBIONICS APP-Personal Profile and send an email to support@sibiocins.com for after-sales support.
 Most orders are shipped within 3 working days of order confirmation/payment. Orders made on the weekends might experience delay. Shipping time for EU countries is 10-18 days, and shipping time for other countries is 10-20 days. Your delivery might be delayed due to extreme weather conditions, peak holiday seasons or distribution issues caused by  the logistics company.